So i been trying to get back into the swing of things. Being at school really drains me to the point that i do not really get time for myself. So this week, i decided to do something fro me, and read a book.
Ok so maybe some people dont think reading a book is necessarily something done for fun, but to me it is. I used to read atleast 2-3 books a week when i had time to spare. But at school, thats out of the question.
Anyway the book i decided to pick up in called
Hiding in Hip Hop
by
Terrence Dean
Ok so this book is basically the author
Terrence Deans
life story. From growing up in a home with a drug addict prostitute mother to being molested at age 13 by a male babysitter. With all the odds stacked against him Terrence managed to become well known in the entertainment industry even becoming a producer at MTV.
So whats the big deal, some may ask. Well the book takes a turn in the beginning from not being a basic memoir but more of a tell all without telling all. Terrence, throughout the book goes on to discuss sexual encounters he has had with major players in entertainment whether actors or artist in Hip Hop. These artist (some of which who have girlfriends and even wives) are participating in same sex encounters with Terrence behind this significant others backs. The other MAJOR thing about this book is no names are revealed, so your basically playing a guessing game the whole time.
Overall i have to say that this book was an 'interesting' read when it wasnt giving me a headache trying to figure things out. It wasnt the
best
"Tell All" i've ever read but it wasnt the worst either.
I'd have to say it fell somewhere between
Confessions of a Video Vixen
by
Karrine Steffans
and
Insatiable
by
Heather Hunter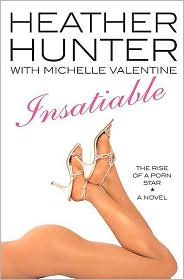 But with all that said, I still recommend this book as an interesting read.